Global Network
We have unparalleled global reach and presence that gives us unique access not just in Oxford, the UK and Europe but across the world
We have unrivalled global reach with unique access and exposure not just at Oxford University and its colleges and departments, but beyond that both on a national and international level. This cross country and cross continent coverage traverses borders and extends from Oxford to the UK to Europe to the rest of the world, enabling us and our partners to reach the most ambitious and very best and brightest all over the planet. This scale is made possible by our leadership and founding of the Collegium Global Network, National Union of Student Business Societies and partnerships with our Guilds at other universities including Cambridge and the London School of Economics (LSE), all of which provide enormous scope for both ourselves and those who work with us.
We know what it takes to make a real impact and the Oxford Guild's phenomenal growth and results are testament to the power of working hard, caring about your vision and then strategically executing it. We have been contacted by enormous amounts of students and Universities from all over the world in the past few years about our model, huge speakers from Kanye West to top CEOs and Nobel Prize Winners and many more, our many successful large events, our ventures and sponsors, for partnerships, advice and help. As a result of all this, we founded, built up and run the National Union of Student Business Societies (NUSBS) in 2012, the Collegium Global Network in 2016 and our partnerships with Guilds at other universities including Cambridge and LSE.
Our popular model, which we developed and have successfully used for decades, has sought to be emulated by other universities across the UK, Europe and beyond who have since adopted it. For example, in 2016 we launched the Cambridge Guild with our colleagues at Cambridge University who approached us to rebrand Cambridge's largest and oldest careers society which was originally called Cambridge Futures with us and our brand. We sit on their board to guide them and have helped them to become the leading careers society at Cambridge University. Together with LSE and Cambridge, we have united the so-called 'Golden Triangle' of Oxford, Cambridge and London and the best three universities in the UK, working very closely together on many exciting initiatives, events and offerings! There are plenty of big developments lined up so keep an eye out! Our sponsors and partners have found this coverage across leading universities invaluable and it is superseded by the creation of our Collegium Global Network. Having helped organisations across the UK and Europe, in response to demand from other continents including North America and Asia, we came to be in a position to expand further across the world. Collegium is the evolution of these efforts and together we will work to make our organisations the best they can be.
Continuing in our trend of constantly innovating, we created Collegium in 2016, an international consortium that connects the brightest young minds and best societies in the world and which has over 40 universities across the globe involved so far (a number that is growing each day and spans the map from the US to Japan!). This includes the entire Russell Group and Ivy League and builds upon the National Union of Student Business Societies (NUSBS) that we launched in 2012 and which has been made up of the leading societies at 24 Russell Group Universities around the UK. One of the most famous and most decorated Nobel Prize Winners and greatest entrepreneurs of our era, Professor Yunus, is Collegium's Honorary President – this is in addition to billionaire entrepreneur and financier, Peter Cruddas, CEO and founder of CMC markets, who is Honorary President of the Oxford Guild.
With this national, continental and global outreach the Oxford Guild has unparalleled and unique presence and can offer ultimate access to our partners who can make the most of the immense value offered as well as our reach, resources, expertise, brand and experience. We can put employers, sponsors and partners in front of and directly in touch with the most motivated, talented and intelligent students in the country and the world. To quote the Independent in June 2012, 'Guild's brand name and reputation are unrivalled', The Independent. We have a track record of providing a very effective and efficient premier service and have won numerous national awards and international accolades, in addition to highly positive testimonials and plaudits in the media both in the UK, Europe and globally. Our enduring success over the decades and long term support from all our partners and consistent positive response from our members and praise from the media is testament to the strength of our reputation and brand.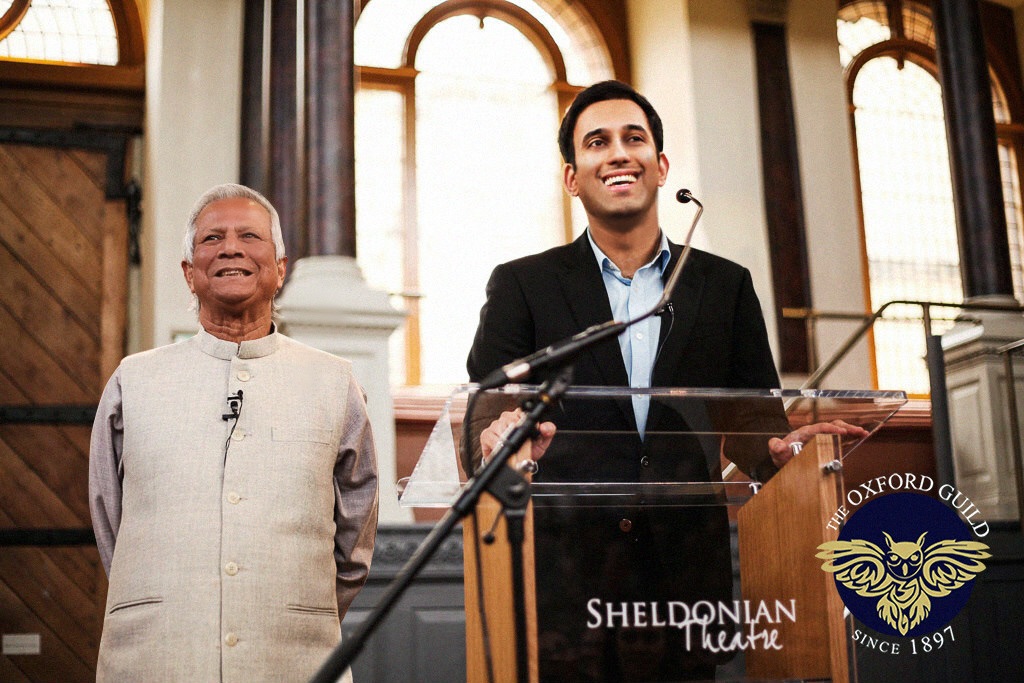 Initiatives with other Universities include jointly hosted and co-organised events, speakers, conferences, socials, balls, international trips, bootcamps and inter-society competitions and challenges.
Jointly hosted and co-organised large scale speaker events from the most high profile figures, which are live streamed to every university in our network and their members. We have very successfully hosted some of the most celebrated guests in different cities and locations at all times of the year in this way and have a lot of experience doing this very effectively.
Inter-university competitions including our annual UK Investment Banking Series Trading and M&A Challenges, UK trading competitions, Oxbridge Trading Challenge, UK Law Challenge, case study competitions, business idea entrepreneurship competitions and much more!
Inter-university UK based and international trips including to the Far East.
Jointly arranged careers events and bootcamps
Our yearly Varsity Masquerade Ball and other socials and networking events such as Boat Parties
We run conferences including an annual global summit and the Up-Start World Summit, the world's largest conference and entrepreneurship competition for students and young people.
More about Collegium
Collegium is a network for the most talented, ambitious and impressive young people from around the planet who are the leaders of the future in their respective fields, communities and the world as a whole. Our name derives from the Latin for 'joined together' and we are a multi-disciplinary community for those looking to make their mark, change the world and create their own dent in the universe. We passionately believe in the power of networking, collaboration and connectivity for the betterment of the world. We appreciate that in addition to what you know, who you know is of huge importance and by creating connections between the rising stars of the future and equipping them with the networks and help they need, we provide the best platform for their success. Together we are greater than the sum of our parts. From this we hope to see the most exciting innovations, the most creative content and the greatest impact and positive change to the world.
Collegium focuses on recognising, developing, connecting and helping the most talented young people and stars of today so that we can shape them into the most prominent innovators, leaders and changemakers of the future. Our aim is to help our members prosper and succeed in their lives and careers. It is also our goal for them to better the world we live in and we work hard to provide them with the best platform from which to maximise and unleash their potential. We have created a network that allows for EVERYONE TO WIN and a key part of our vision is for our members not just to help their fellow members, but also the rest of the world around them.
We are also a network of the most effective campus organisations and societies. True to our name, in ancient Rome a Collegium was an association (a guild, social club, society or organised body of businesspeople or those with shared interests) with a legal personality and university campuses are hotbeds of creativity, distruptive thinking and innovation and we seek to harness that truly exciting potential.
The most active students join and get involved with the running of campus organisations of young people – also known as societies. Collegium recognises and supports the best go-to societies on campus that provide the most effective services to students and by working together improve the offerings of all our member organisations. The top societies do some truly amazing work and achieve great things that make a huge difference to their members and we appreciate these efforts and the teams behind them. These teams work hard to support the best and brightest talent, and help them put their classroom learning into practice in the real world. It is our firm belief that the best learning comes from doing and societies are a great way to apply this. When it comes to learning and skills development on campus there is no better way than by getting involved with societies. They play a significant role in adding to the richness of university life.
We know better than anyone else just how hard the teams behind these societies work to provide services for their members, recruit members, carry out marketing, raise funding, organise events and initiatives and much more! We also know just how invaluable this experience you gain is and just how many skills you both develop and demonstrate. Building upon the successes of the Oxford Guild which has grown to be the biggest society not just in Oxford and the UK but Europe and now the world, we support and represent societies and student organisations. Through shared best practices, resources and collaboration we help them to provide the best possible services at their Universities. The societies also play in important part in being a pipeline for future talent and members of the network year on year.
Founded by student societies, for student societies we aim to support and represent student run organisations on campus. Each of our member societies is an official representative from their university to network: a stamp of approval and responsibility. Only the most effective societies (the ones that offers the best services to its students) will be representatives. The network as a whole will decide if a member society is not meeting the entry criteria and may take on board another society from the universities in question.
Collegium will offer society support in other to ensure a thriving global network of student led societies or groups in EVERY University and College, providing the essential information, advice and inspiration needed for young students. In addition to connecting different organisations and Universities and facilitating connectivity and dialogues (we connect societies online on social media, on our intranet of online resources and through in person regional events), we provide guidance, training, advice and shared best practice sessions, annual society one day bootcamps, a mentorship scheme and link ups with secondary schools as part of an access scheme. We have an annual global summit in addition to regional events and on our intranet includes live streams and video uploads of events our societies have held. The access scheme is very important to us and we encourage our member societies to increase their commitment towards inspiring the next generation of students who might one day even become part of their societies. As part of this our members are advised to invite secondary school students to attend their events and host at least one access focused event each year with local schools. Through the network there are also inter-society trading competitions, case study competitions and business idea entrepreneurship competitions and much more!
As seen in
The Oxford Guild has been in over 1000 newspapers, magazines, websites and radio and TV outlets in over 100 countries in over 5 continents thus far, INCLUDING:
AND MANY MORE IN NUMEROUS COUNTRIES ACROSS THE GLOBE.